Work is love made visible workshop Part 2: Depth of Purpose (Part 2:3)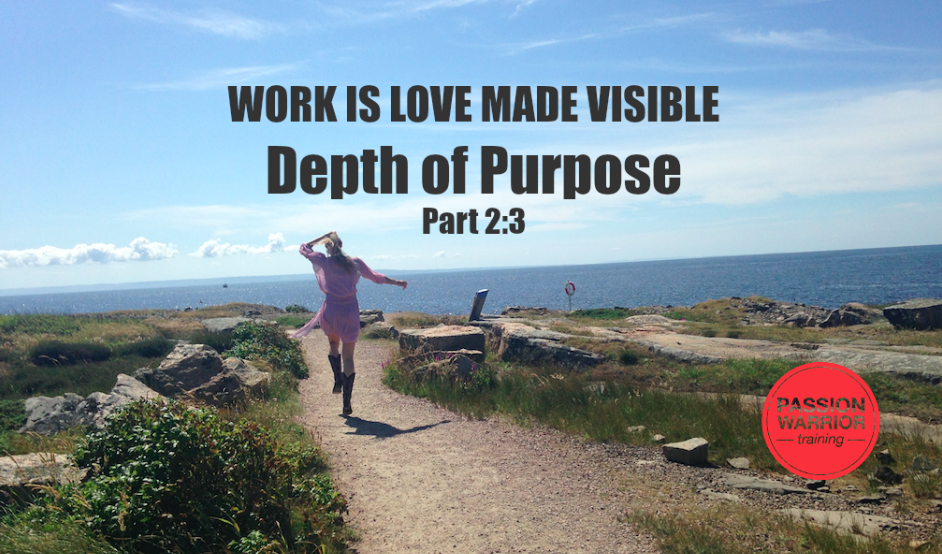 When we are able to connect deeply within, our meaningful and purposeful work can emerge as an expression of our uniqueness and aliveness. As conscious leaders we thrive when we align passion, purpose and profits. This is Conscious Leadership and applying this process creates magnetic leaders, who in return create magnetic courageous brands and companies that do good in the world.
This is part 2 of a 3 part teaching series with excerpts taken from Passion Warrior Conscious Leadership training eCourse by The Passion Institute. Read about the course and book your spot here.
Listen to Audio for your Homework Process
Please share with me what this short lecture and homework process inspires in you in below comment area. I'd love to hear from you.
Make sure to share this free workshop and process with your best buddies and ambitious on purpose cohort. It's my mission to  inspire as many people as possible to create fulfilling businesses and careers. Share. Share. Share.
Come back to visit next week for Work is Love Made Visible Part 3: Shadow Work and Leadership.
Watch part 1 + 3
Part 1   Work is Love Made Visible: Passion and Inner Game here
Part 3   Work is Love Made Visible: Shadow Work and Leadership here
INSPIRED
by this post?
Sign up for newsletter updates. It's Free!
2

Responses to "Work is love made visible workshop Part 2: Depth of Purpose (Part 2:3)"