PassionTalk TV with Sandja featuring Steve Demos, co-founder of White Wave and Goodbelly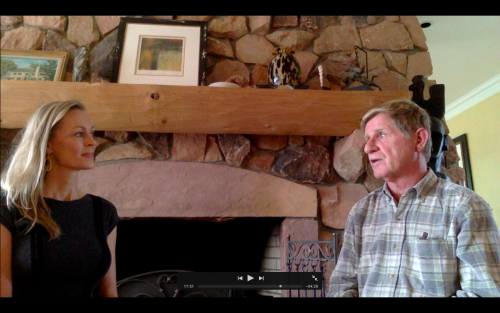 It is a huge privilege for me to have Steve Demos as a business advisor, and to have the opportunity to sit down with Steve to interview this legendary pioneer in the business as a force for good movement about his perspective on good business practises and right livelihood principles in action.
Steve founded White Wave in 1977 and sold it to Dean's Food in 1998 staying on as CEO he led White Wave including the soy milk brand Silk to revenue of more than $300 million. Steve founded Goodbelly in 2008. A company my communications agency Refresh helped launch.
Here are some of the things you'll learn in this interview:
Steve Demos' story and vision for a new kind of business – good for me, good for you and good for all it touches
Right Livelihood as the basis for Steve Demos' business mission
What is right livelihood & how can businesses and leaders adopt this model
Building conscious companies that are profitable and do better than conventional business – Yes, it IS possible!
The millennial generation as the perfect storm
Purpose rooted business and the metaphor of the tree and the seed
On being a visionary business leader way ahead of your time
PS: This interview was filmed at my dear friend's modern farm outside Boulder, CO, USA in October – a time with many flies on farms, so please excuse the little sssumssssum sounds at times. We were able to edit most of it out. Please enjoy an authentic Colorado farm experience 🙂
_____________________________
SANDJA BRÜGMANN is a sustainable communications & marketing expert, global speaker and serial-entrepreneur with a passion for conscious leadership. Sandja is strategic advisor to visionary business leaders and entrepreneurs around the world helping people manifest a passion-filled and on purpose business that makes a positive difference to people, planet and profits. She has worked with the global business community to create sustainable & social-good change for the past 15 years including respected companies like Crocs, Goodbelly, Gaiam, Spier, ITO EN, Better Place, The Body Shop, Sustainia and Justins.
She has been featured in leading international business and sustainable lifestyle media Inc Magazine, Business Insider, CBS12 News, YFS Magazine, LOHAS Journal, EcoSalon, New Hope 360, BureauBiz and spoken at leading conferences Natural products Expo West in California, Natural Products Expo East in Baltimore, Social Media Week in Copenhagen, Global Entrepreneurship Week Big Blab Event and Women's Leadership Summit. She is a certified yoga teacher, former Danish national archery champion and Olympic hopeful, a certified Shadow Facilitator and health food advocate. Founder/CEO of Refresh Agencyand The Passion Institute. Connect with her on Twitter and LinkedIn.
INSPIRED
by this post?
Sign up for newsletter updates. It's Free!