Conscious Leadership Corporate

Conscious Leadership Training prepares leaders and employees to create better and more focused results through a change in consciousness levels that positively impact perception, behaviors, communication, diversity intelligence, inclusion, access to creativity, innovation, solutions, choices — all of which determine a business' success through it's behaviors, products and services.
We customize leadership programs to fit your company and team's specific intentions, goals and needs. Below is one potential option of a six month program.
Conscious Leadership Qualities
To accomplish this requires to lead from a place of intellect, intuition, results, goal-focus, passion, authenticity, morality, courage, trust, clarity, co-creative mindset, assertive communication, co-action, integrity and higher purpose – creating a deep inner connection, results in a stronger ability to contribute to the larger whole (the organization/the world), create cultures of meaning, motivation, satisfaction, creative innovation solution thinking. Securing the success of the company into the future requires that leaders take ownership, take radical responsibility and become the change.
The whole (company) functions at a higher level of performance, motivation and results, when each individual (in the company) is performing at a top level. The goal is to create a corporate culture of meaning, participation, motivation, efficiency and retention, and where each person on the team pulls in the same direction – to secure the success of the company into the future. We facilitate systemic company understanding  at both a micro and macro context of all stakeholders.
A Business shift to Conscious Business and Leadership
From mechanistic worldview and silo thinking to a systemic understanding worldview
From measuring success only in financial bottom line to a broadder understanding of success based on the 5P's: Passion, Purpose, People, Planet and Profits.
From using marketing and business techniques to drive sales through human psychological weaknesses of insecurity and fear to one of uplifting, educating and empowering people, so your customers will continue to choose you in the long-term, because you make life better for your customers – and they recognize you care – this builds trust and loyal customers.
From 'me' to 'we' – participation based shared value organizations, teams & product development
From performance and efficiency drivers maximizing output from each employee to understanding the whole human being as a person creating and collaborating from a soul perspective when a healthy environment is in place including a sense of belonging, acceptance, psychological safety, trust, feeling understood and supported, nourishment and room to grow – this creates motivation, creativity, increased intellectual output, company loyalty, creative innovation and solution thinking and higher output results.
From traditional masculine behavioral skills to integration of masculine/feminine skills.
From know it all to embracing life-long curiosity and learning.
From projection and blame, to radical responsibility, curiosity and stepping forward creating connection.
A Program Idea
Practicals
6 months program
2x full day intensives (7 hours) // Start: Module 1 + Completion: Module 6
4x half day intensives (3.5 hours) / Module 2, 3, 4, 5
6x Homework for each module teachings
Program is changeable to fit company specific needs
Month 1:  Self in Company Context
With focus on the whole person in business you will learn processes that build on each leaders' increased awareness and understanding of self in terms of happiness, passion, goal setting, vision, purpose, collaboration styles, values, radical responsibility and explores the growth edge of each person in the context of creating an organization and teams that drive greater success on the 5P bottom line.
Month 2:  Shadow Work and Powerful Leadership
Using techniques from The Ford Institute we explore where each leader is giving away his or her power, projecting and not fully standing in authentic truth, in order to become better, stronger, more generous, and firm action and heart oriented leaders, who can and will take proper action as needed in each situation. We can only do this, when we have cleared out our shadows, projections and can stand fully in our own light and power.
Month 3:  Values Based Culture & Internal Communication
Creating cultures that magnetically draw in customers, attract high quality talent and collaborative partners, who are inspired by your vision, values and how you show up in the world is key to building a successful business. This module explores and transforms company values that drive the company's purpose and core beliefs, behaviors, actions and internal communication skills to a higher level of awareness and impact.
Month 4:  Innovation, Co-Creation & Co-Action
An exploration and techniques to inspire, seed and action on creativity, innovation, solution co-creation and how to step into action in an aligned manner as a team that lifts with full capacity to create the results and change desired.
Month 5:  External Communication & Force For Good Leadership Impact
A deeper understanding of external communication tools and methods to drive a company's influencer standing, tapping the external mirroring as an unparalleled motivational and inspirational factor for employee satisfaction and company growth – with off set in the force for good leader.
Month 6: Right Action: Visionary Leadership, Goals & Prioritization
Taking right action daily that drives the company from a dream and vision into actual reality is what constitutes great leadership. Mastering this skill is a lifelong process, and teaching prioritization of projects, the use of energy management as well as clarity of communication and life balance – while also mentoring these skills to your team.
Book a meeting with us to hear, how we in collaboration with you can grow your leadership competencies, consciousness and results.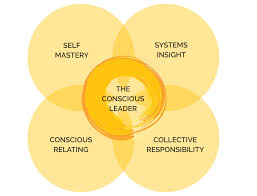 Our Sources of Inspiration 
This course is built using expert sources from global cross-industry and multi world-view sources including business, leadership, psychology, behavioral sciences, sociology, environmental studies, economy, philosophy, transformational and consciousness raising methods and tools – merging the best of East and West delivered to drive learning and inspiration in a down-to-earth, practical, implementable manner that will generate change and results within the participants and the company.
Psychology, Communication, Biology, Economics, Environmental studies, Business
Systems solution thinking
Conscious Business
Intuitive Leadership
Energy Management
5P Bottom Line measure of success: Passion, Purpose, People, Planet and Profit
Yogic Philosophy
Environmental Leadership
Higher Alignment 7 World Views
The Fourth Way
Fritjof Capra, physicist, biologist and leading systems thinker
7 Habits of Highly Effective People, Stephen Covey
G.I.Gurdjieff
Carl Jung
Intuition Training Tools
Integration of all centers: Intellectual, emotional, moving
Shadow Work, The Ford Institute, Debbie Ford, Pernille Melsted
Theory U, Otto Scharmer
Right Livelihood, Steve Demos Founder White Wave
Buddhist philosophy
Integral framework, Ken Wilber
WHY U, Simon Sinek
Spiral dynamics
Agile Organization Methods
University of Colorado, Boulder MENV certification (Master of the Environment)
Brené Brown, researcher in shame and whole hearted living, Houston University
Evolutionary Leadership, Manuel Manga
Conscious Leadership
Conscious Capitalism, John Mackey & Raj Sisodia
Screw Business as Usual, Sir Richard Branson
The Success Principle, Jack Canfield
Future Fit leadership
We continue to grow, learn and expand the program teachings, tools and methods through our trusted resources, leading global experts, scientific research and our own personal growth.
Read more about The Passion Institute & our worldview, leadership and business methods.
No business tool is as powerful in generating results and value environmentally, socially and financially as consciousness. It is the magnetism that draws the best talent to the company, ignites passion, intuition and high-cognitive processes, requirements to continued high performance, motivation, innovation, thrivability, and global systemic solutions.
Sandja Brügmann
Do you want to develop leaders and business strategies that are solution-oriented and create societal and financial value? Contact us for a free consultation to learn how we can support you. +45 4244 9800