Consulting & Training Services
Our Services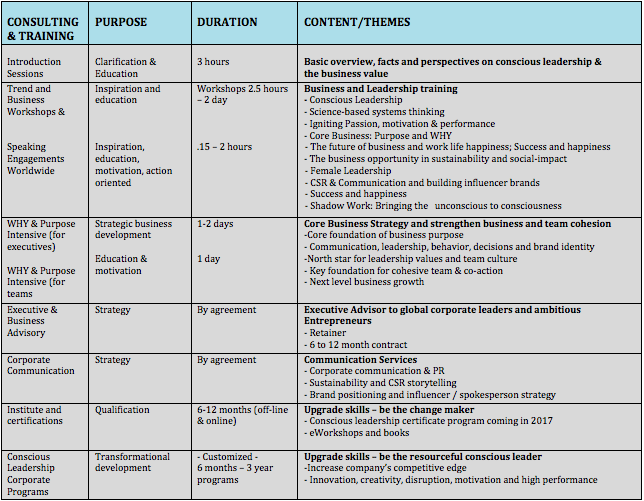 How We Ad Value & ROI
High performing team with a shared vision
A strong corporate brand and identity rooted in a shared core purpose and magnetic team culture
Clarity on strength and weaknesses of your organizations and leaders
Strategic understanding of actions to take to grow the business and overcome obstacles
Increased innovation capacity, creativity, motivation, performance of executive leaders and employees
Market know-how and consumer trends
Clarity of business vision
Leadership skills and exponential transformation to generate results through aligned action
Differentiation from competitors
Access to new areas of business, markets, segments
Strengthen influencer standing of brand
Saving costs and identification of new streams of revenue
Strategic communication to all stakeholders that inspire action and engagement
We help you be more relevant to your customers now and in the future
Our Recipe for Successful Sustainable Business: The 5PBL Model
We work in the intersection of Sustainability, Communication and Conscious Leadership. The most successful and sustainable way of growing and running a company is to build the values of sustainability, responsibility and purpose into the core of the business strategy and leadership efforts – and into the DNA of the organization. We support ambitiously driven companies and leaders to solve some of the world's toughest issues through business. Our services are created around the 5P Bottom-Line (5PBL) of Sustainable Business Success.
External Communication and co-action creates cohesive cultures and tangible business results
Cohesive, high performing culture
Increased motivation
Innovation and creativity
Aligned co-action
Increase tangible results
Clear communication and aligned actions create trust
Attract customers, generate loyalty and repeat sales
Social influencing
Attract key talent
Increase follow-worthiness and leadership position
Consciousness in leadership transforms the business and increases business success
Increased consciousness directly improve external behavior
Increase self-management
Seeing and making decisions in larger context
Building stronger relations
Strengthen foundation of key leaders
Influence, EQ and power increased
Clarity of purpose and values at the core of the business
Values and meaning for each individual on team
Understanding stakeholder needs internally and externally
Strong team co-action increase
Business and team resiliency
Network Partner Structure
A Network Partner Organizational Structure – global experts at your fingertips
Professional Specialist Skills – across industries and disciplines
Customization to meet your budget and needs
Cross-Disciplinary experts within leadership, change management, communication, psychology, economics, environmental, futurist, sustainability and social business experts
Relevant experience in corporate, entrepreneurial and academic settings
Latest global and local trends and business cases
Cutting-edge training, tools and practices
The Business Case for Conscious Business & Leadership

An Integral Multi-Disciplinary Approach
We work in an integrated cross-disciplinary approach applying psychology, leadership, business, spirituality, science, environmental studies, sociology and economics. We draw our knowledge, tools and processes from a vast array of experts in each their field – merging the best of East and West delivered to drive concrete learning, inspiration and new skills in a down-to-earth, practical, implementable manner. To read more about our sources of inspiration click here (and scroll down).
Do you want to develop leaders and business strategies that are innovative and solution-oriented, and create environmental, social and financial value? Contact us for a free consultation to learn how we can support your specific business and leadership needs.
Read more: 
Executive Business Advisory here.
Corporate Conscious Leadership training here.
Sustainability and Social Impact Strategic Advisory here.
Purpose and WHY Strategy and Workshops here.
International speaking and workshops here.
See our courses and workshops.
Our People & Partners and The Passion Institute.
Sandja is an organized, efficient and powerful business woman, who creates results."
George Boedecker, co-founder Crocs
The time has come for the human-centric leader, who has the capacity to perceive far beyond the rational mind to generate systems-wide environmental and social global solutions.
Sandja Brügmann, Managing Partner The Passion Institute
Do you want to develop leaders and business strategies that are solution-oriented and create societal and financial value? Contact us for a free consultation to learn how we can support you. +45 4244 9800