International Speaker
Are you looking for a speaker to inspire your audience and deliver engaging, valuable insights that leaves them with an uplifted, 'can do' attitude?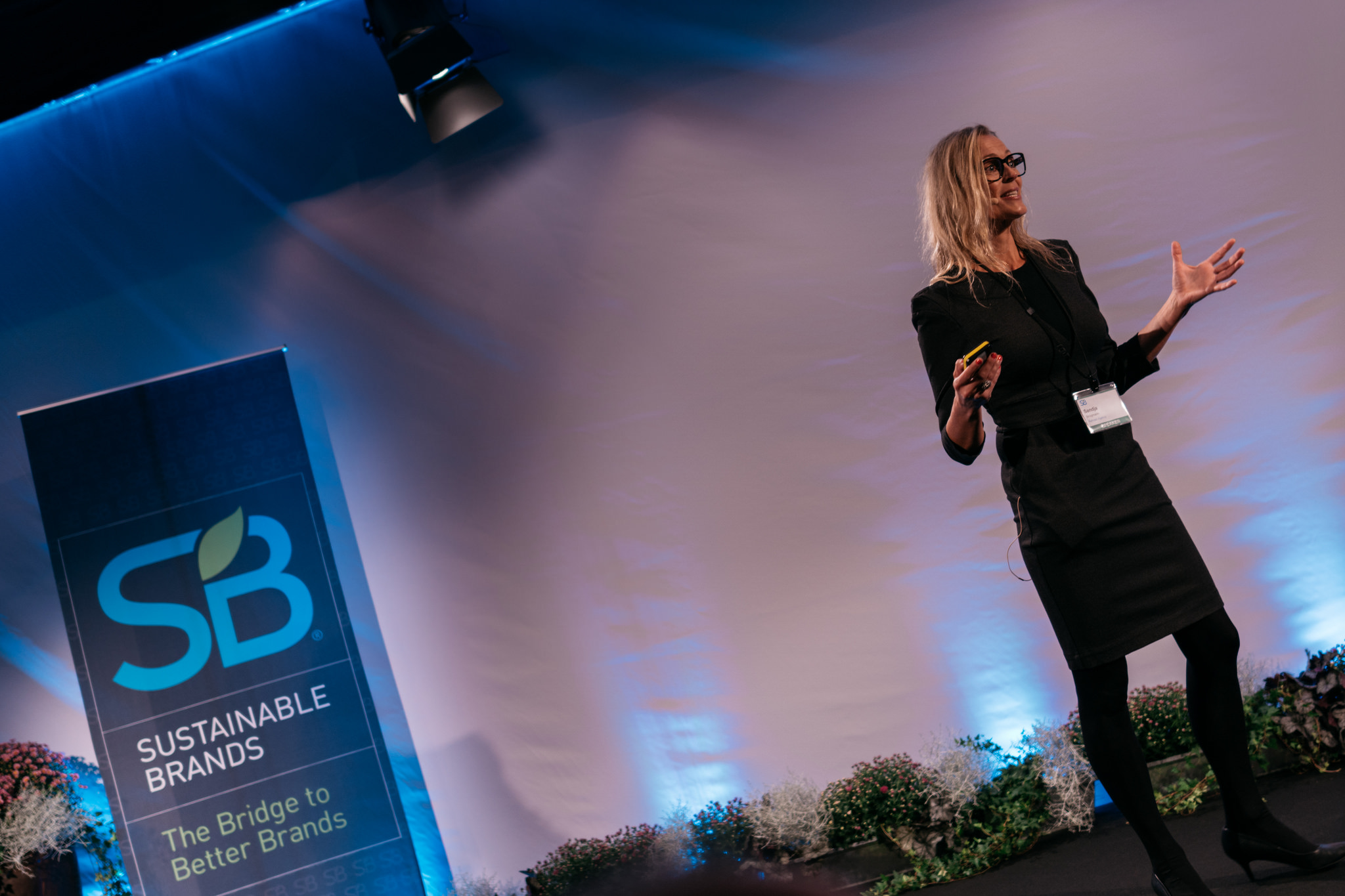 Inspiring growth and awareness through communication is one of my true passions in life. Whether through writing, video, podcasts, and of course, live speaking events, I embrace the opportunity to deliver powerful messages that connect with audiences in a multitude of settings.
When a group of people gather for a common passion and purpose – to grow, learn and become leaders on a mission to expand our positive impact in the world through business – the energy is exhilarating, and it doesn't slow down once the event is over. This is the inspiration behind my full-circle approach of connecting with the audience before, during and after live speaking events, both in-person and through social media.
When you touch people deeply, they will naturally share their experience with their networks, both on and off social media – relaying highlights, key insights and aha! moments from your event.
My Focus: The 5 Ps
The main focus of my work, as well as my talks, is the 5Ps: Passion, Purpose, People, Planet and higher Profits.
These focus points are the foundation of the conscious leadership skills I speak to and teach about, and help business owners and entrepreneurs not only bring aliveness, passion and purpose into their lives and companies, but also pave a path towards building sustainable business strategies – the kind that have a positive impact on sales, profits, productivity, creativity, innovation, entrepreneurial solution-focused thinking and contentment.
It's the win-win-win of the new business paradigm of 'we'.
I am as comfortable delivering a speech to a large, international audience as I am a workshop to a small group of people.
People tell me that they love my talks because I have an ability to build compassionate, trusting bonds, both one-on-one and on from a stage. No matter the setting, it is always my goal to deliver uplifting content that leaves people feeling enthused, all while teaching with kindness, love, empathy, authority and professionalism – helping the audience to align with their vision and purpose, and walk away with a 'can do' attitude.
Speaking Experience
Sustainable Brands (Copenhagen)
Women's Leadership Summit (Global)
Sustainable Brands (Copenhagen) x 3
Markedsføringsdagen Marketing Day (Copenhagen)
Social Media Week (Copenhagen)
Natural Products Expo West (Anaheim, CA, USA)
Natural Products Industry Expo East (Baltimore, MD, USA)
Big Blab Event Global Entrepreneurship Week (Global)
Beyond Envy Conference (Global)
Å Workshop (Copenhagen)
And many other public and private events, including large corporate events, as well as upstart entrepreneurial speaks, teachings and workshops
I have written articles for and been interviewed by international media such as Inc Magazine, Huffington Post, Unreasonable Institute, CBS12 News, POV International, YFS Magazine, Kommunikations Forum, Bureau Biz, 5280 Magazine, Social Media Week, IN Magasin, Organic Spa Magazine, Clementine Daily, The Muse, New Hope 360, NEXT Accelerator and many more.
Formats
Format is typically 15 min to 1.5 hours. Content can be customized based on your specific company or event needs and by agreement. By requesting the Speaking Kit, you will receive pricing and a list of current speak, workshop and trend spot topics. Speaking sessions are in person or via Webinar/video conference format. Sandja travels from Copenhagen, Denmark and/or Boulder, CO, USA.
Topics
All speaking themes build on authentic leadership, social and sustainable business trends and practices based on the 5Ps: Passion, Purpose, People, planet and Profits. These themes include values of morality, sustainability, responsibility and purpose. Topics include conscious compassionate leadership and work-life issues; authentic corporate communication and story-telling; authentic corporate marketing and branding; meaningful work-life for leaders, vision holders and employees; employee motivation and productivity; social media marketing as relationship building; sustainable and social business inspiration, thinking and growth; 5P Bottom-line business success; conscious consumerism and capitalism 2.0; and innovative force-for-good entrepreneurship.
Some of the recent topics Sandja has spoken about:
Conscious Leadership as a method to drive cultural change and access innovation
Global Trend: Female Entrepreneurism
Sustainable and Social-Impact Entrepreneurial Business
The Future of Leadership – conscious leadership
Passion, Purpose and WHY: Building a Strong Company & Brand Foundation
Inspiring Entrepreneurism in Youth: Career and Education
Good Storytelling: Communication, Media and Branding
Passion, Purpose and Meaning at Work
Happiness – how to stop the rat race and create true meaning
Sustainability and Social Innovation as DNA of Company
Meaningful Business: Life Contentment as Business Opportunity
Shadow Work and Leadership: Accessing Your Full Power as a Leader
Authentic Corporate Communication
If you are interested in receiving
my speaker kit,
please fill out the form below.
See Sandja In Action
To learn more about me, my personality or skills when it comes to delivering a powerful, uplifting and empowering message, check out the videos below from some of my previous talks and interviews.
Social Media Week Copenhagen speak + workshop with Sandja Brügmann, CEO Refresh Agency / The Passion Institute & Thomas Kolster, CEO Goodvertising (1 hour full recording).
Jyske Bank TV interview with Sandja Brügmann and Thomas Kolster, Social Media Week Copenhagen 2015 (in Danish).
PassionTalk TV F**k IT! Bring Out Your Bitchitude (Vlog)
Big Blab Global Entrepreneurship Week official host
Global Trend: Female Entrepreneurship (panel) / awaiting film clip
Personal Branding speak + workshop with Sandja Brügmann and special guest, Olivia Omega / awaiting film clip
Entrepreneurship in Scandinavia / awaiting film clip
Sustainable and Social-Impact Entrepreneurship / awaiting film clip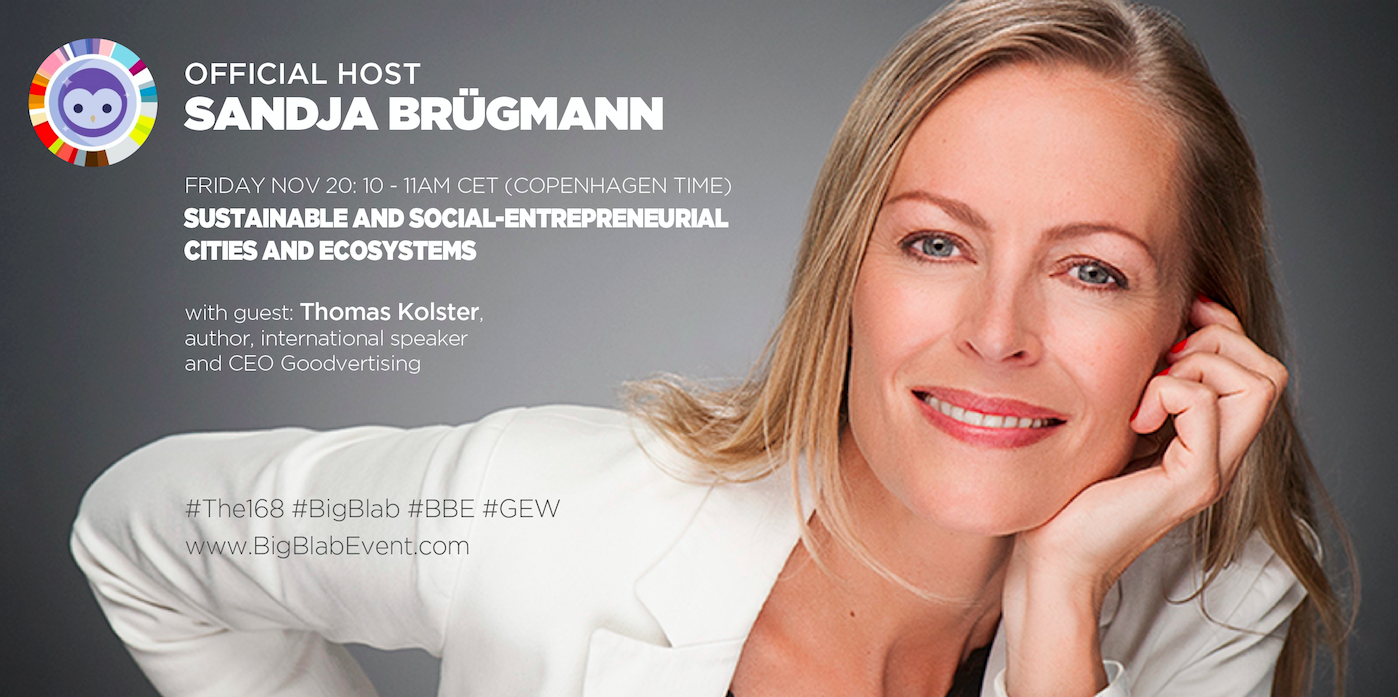 Beyond Envy Conference speak/discussion about Smarter Branding Sandja Brügmann, Lori Webb and Jojanneke Van Den Bosch (Event owner and visionary)
Women's Leadership Summit (Jan 2016)
PassionTalkTV with Sandja featuring guest Baptist de Pape, creator of The Power of the Heart
Natural Products Expo West: NEXT Accelerator Boot Camp: Authentic engagement with social media
(watch recording here)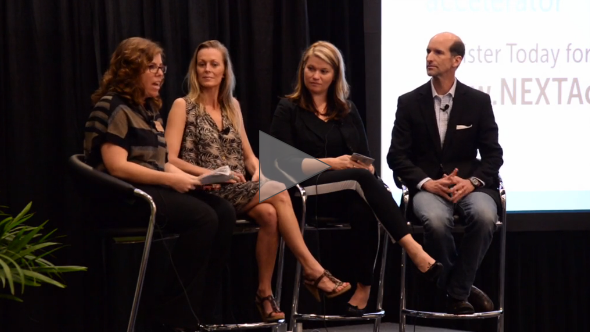 Sandja Brügmann is represented by A-Speakers, an international speakers bureau with locations in London, UK, USA and Denmark. See her A-Speakers' profile here. Call A-Speakers for inquiries and to book Sandja to  speak at your conference or event.    US: +1 347 223 5128     UK: +44 (0)20 3744 5675
Read more about Sandja Brügmann here.
Sandja is one of the few most inspiring thought leaders in conscious leadership and sustainable business strategy that I have had the pleasure to work with within the large global Sustainable Brands community. As a speaker, she moves the audience in an authentic and heartfelt manner, delivering her messages with a combination of passion and intellect that is second to none. She consistently manages to leave the audience with expanded horizons, new tools for self-improvement and actionable takeaways. I selected her to speak at Sustainable Brands Copenhagen, and I would be delighted to have her back on stage anywhere in the world. She comes highly recommended by the entire Sustainable Brands team!
Dimitar Vlahov, Director of Content Development Sustainable Brands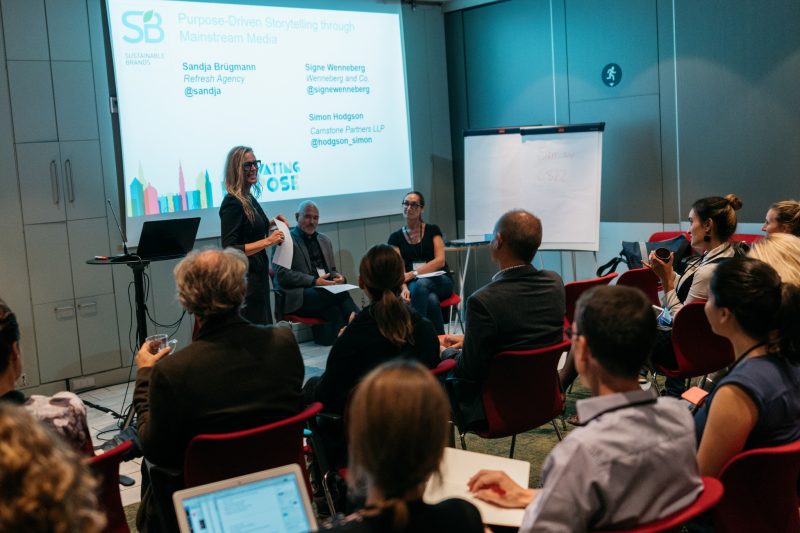 In Sandja I see one of the most dynamic and passionate people in the coaching, strategic communication and business development space. These qualities, combined with a keen business sense, make Sandja an extraordinary individual driven by her passion. Sandja's ease of communication in her various fields, from communication to leadership, social media to mindful business development, makes her inspirational to listen to and be inspired by.
Mads Ehrhardt, CEO Copenhagen Concept and Social Media Week Copenhagen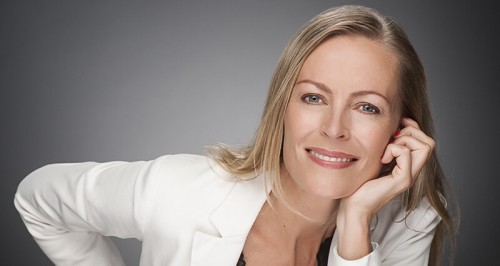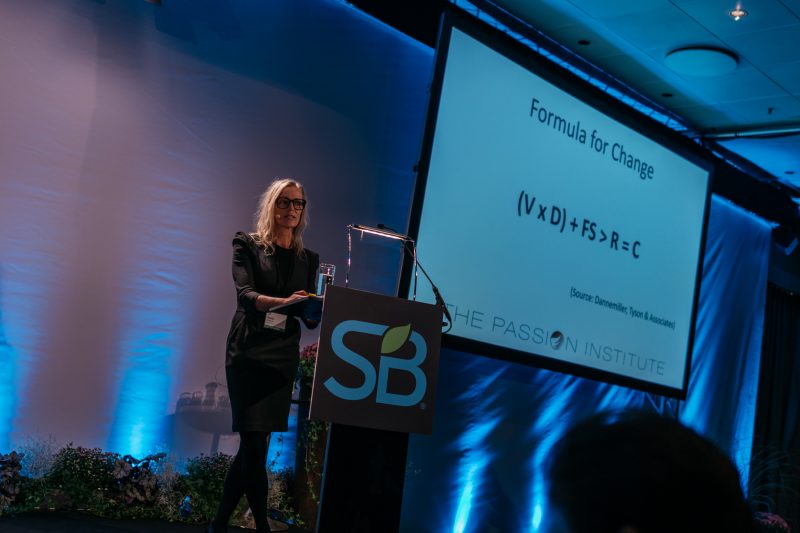 It is my mission to support those businesses that best represent my business philosophy termed "Right Livelihood". Simply put this translates to business, which is "Good for me, Good for you, Good for all it touches". Sandja lives these principles in business and it is a pleasure for me to work with her.
Steve Demos co-founder White Wave, Silk and GoodBelly (Boulder, CO, USA)
An awesome powerhouse revolutionizing business!
Susannah Campora, business owner (Denver, CO, USA)
Sandja is a professional event planner's dream. She is articulate, poised and extremely knowledgeable in a range of areas including Sustainability, Entrepreneurship, Female Empowerment and Branding. She is well prepared, timely, always on point and an overall joy with whom to work.
Lori Webb Executive Livestream Conference Producer-The Big Blab Event, Startup Con Live and Beyond Envy 2016.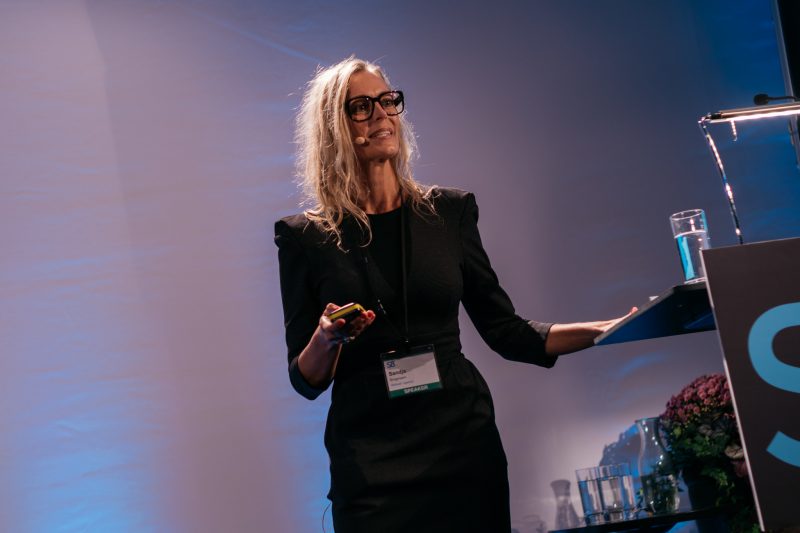 Sandja is an organized, efficient and powerful business woman, who creates results.
George Boedecker co.founder Crocs (USA)
I have known Sandja for many years both professionally and personally and I find her to be one of the most engaging and intelligent people I know. We have appeared together in presentations and I am always impressed with her ability to connect with people in any situation - whether a room of 2 or 200 she definitely knows how to communicate ideas with passion and skill. Her public speaking is exceptional, her knowledge of how to communicate ideas top notch and her enthusiasm for finding the passion in everything she does and pulling it out of everyone she meets is not only impressive ...it is humbling. I highly recommend Sandja!
Bill Capsalis Co-founder Big Picture Brands (Boulder, CO, USA)