Conscious Leader Spot: Eileen Fisher's Bold New Path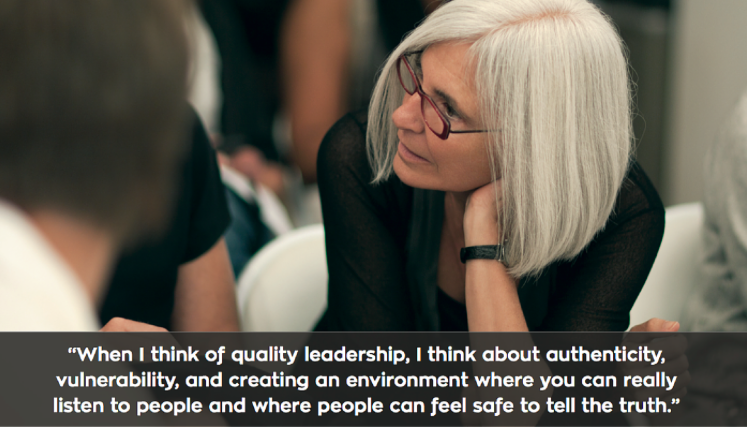 Eileen Fisher designs from her heart. Long before sustainability really got going as a business movement, this giant of the fashion world created clothes inspired by her love for natural fibers and her desire to make pieces that were timeless and long-lasting. As her company grew, she began educating herself on the environmental impacts of the fashion industry and decided to do more. For over a decade, Eileen and her 1,200 employees have gradually transformed Eileen Fisher Inc. into one of the largest sustainable fashion brands anywhere, yet the company's frank marketing materials are the first to tell you that more action is needed. Focusing on six key areas – fibers, colors, resources, people, supply chain mapping, and reuse – the company's Vision 2020 initiative promises that all of its styles will be sustainable by the year 2020, or it won't sell them.
We had the pleasure of chatting with Eileen for several hours at her home in New York about everything from her personal story to the value that mindful breathing at meetings adds to her company. She also opened up about the struggles and sacrifices required to integrate sustainable practices throughout her company, the tension between minimizing her impact and selling products, and how her search for purpose led to success.
Can you tell us about the conceptualization of the Eileen Fisher brand? Was there a moment that you remember that you actually decided to really go for it?
Eileen Fisher: I started in 1984, so I'm going to say it was 1979 when the idea was forming. I'd been working in design and graphics at that time and actually doing some branding work – logo design and packaging and things like that. I had a Japanese partner and had the opportunity to travel to Japan, and while I was there, I got really excited about the kimono – the whole idea of a garment that they wore in only one shape for a thousand years. The whole idea of timeless clothing intrigued me. The simplicity in the whole Japanese aesthetic just really attracted me. So, this idea began to form and it was just about really simple clothes – simple shapes and natural fibers. I was into cotton and linen and silk at that time. It just had to be natural fibers. That was clear to me.
When I first decided to do it, I
 had a friend who was a jewelry designer. He took me to a boutique show where he showed his jewelry to small stores. I just remember walking around there and seeing these little booths and seeing other designers presenting their work and small companies presenting their wares to little boutiques around the country. I remember looking around going, "Oh, I can do this." I felt like I could see my idea there and it felt whole. I could picture it.
I'm probably not a good salesperson, so I couldn't picture going around to stores and standing in line at Bendel's or Bloomingdale's to talk to the buyer and then being rejected. That was too disturbing to me, plus I didn't know if they would understand what I was doing. And I guess I never saw myself doing runway shows – I wasn't that kind of designer. It was more like I wanted real clothes for me to really wear. It wasn't about the show or red carpets or anything glitzy. It was simple.
Was there any fear involved in that decision?
EF: I think it was foolish non-fear. 
I really had nothing and so I had nothing to lose. It was coming through me, this idea. It was clear to me. I was sort of uncomfortable and not a confident person, but a shy, introverted person. But this idea was powerful and I was confident about it and I was sure about it. I would talk to people about it with confidence. It was almost like I didn't recognize myself because I felt so sure of myself in that arena. So I would say I had no fear – maybe foolishly had no fear.
This article is written by Conscious Company Magazine – go to their website here to read the rest of the article.

INSPIRED
by this post?
Sign up for newsletter updates. It's Free!