Purpose and WHY leadership and branding strategies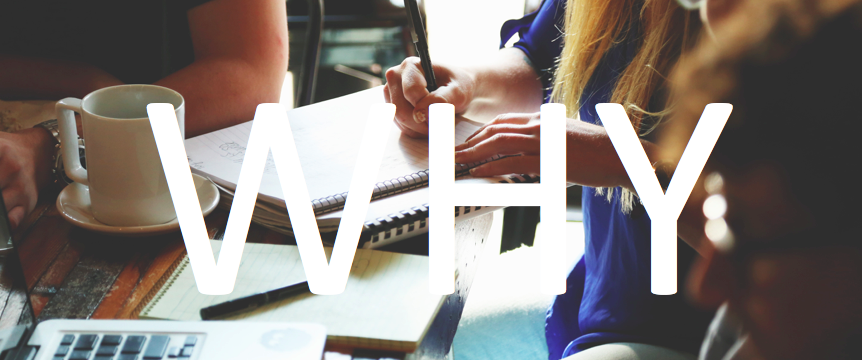 Purpose & WHY Intensive for Leaders and C-Suit
Purpose & WHY workshops for employees, specific departments and the entire company
_______________________________________
In the Purpose & WHY Intensive for Leaders and C-Suit
Having a clear North Star and a vision founded on depth-of-purpose is an important tool when it comes to driving your business towards a desired goal. A clear vision, and more importantly, the WHY behind it, serves as a motivating factor in driving success, innovation, contentment, engagement and creative problem-solving for everyone within your company – including you, the leadership C-suit team and every single employee.
Understanding your WHY, as well as the drivers behind your passion and purpose in life, requires taking undisturbed time to learn the key processes that will help you gain clarity of what is truly needed to create your solid, actionable company vision (a.k.a. your 'North Star'). It means finding a deep-rooted purpose that will give you the strength, perseverance, resiliency and long-term vision needed to take your company past the inevitable bumps of business and life.
With strong roots, you and your team can move mountains by creating products and services that engage, create value on a human level, drive lasting change, and fulfill real human and planetary needs. That's what people want. This is what your future customers want.
An organization's leadership team is the true 'North Star' of any business – guiding the vision and success of everyone involved. So, it makes sense that when your company's leadership is founded on a strong values, clear purpose and intentional visionary direction, you are providing your team with the tools and direction they need to do their job well.
At the end of the day, one of your most important responsibilities as a leader is to provide a framework for your employees and company to succeed.
It's Good Business to Work with Purpose and WHY Intensive. Here's why:
Increases your personal fulfillment and contentment
Ensures a clear vision and purpose for your company/employees
Creates a framework – driven at a deep, purposeful level – to guide the success of all your employees
Teaches you how to attract people and future customers to your brand, as well as how to get them involved with your mission, converting them into active ambassadors
Sets yourself, your company, your employees and your stakeholders up for success
87% of Americans feel it is the responsibility of companies, rather than the government, to solve social and environmental issues – providing a renewed leadership opportunity for corporations (Havas Meaningful Brands)
Companies who put people's well being at the core of their business are more likely to be rewarded with consumer trust and loyalty (Havas Meaningful Brands)
70% of millennials choose to work for companies where they're able to connect with the its sense of purpose (Deloitte)
"Consumers around the world are saying loud and clear that a brand's social purpose is among the factors that influence purchase decisions," said Amy Fenton, Global Leader of Public Development and Sustainability, Nielsen. "This behavior is on the rise and it provides opportunities for meaningful impact in our communities, in addition to helping to grow share for brands"
A survey by Havas Meaningful Brands reveal consumers would not care if 82% of brands disappeared
As leaders and people, we either grow or lose our edge. If you are stagnating, you are losing your business advantage. Which side do you want to be on?
As a leader and visionary in the Purpose and WHY Intensive, you will learn how to:
Connect on a deeper level of clarity with your passion (aliveness) and purpose
Identify and embrace your WHY
Create a clear North Star vision for your company
Lead from a place of passion and purpose, and how this translates to good business
Identify your growing edge as a leader, as well as the key leadership skills you need to improve on in order to create the business you envision
Identify what kind of people you work best with
Identify customers' buying habits, based on the company's why
Identify your brand's WHY, key messages and behavior
Figure out what areas of your work-life are most aligned with your passion and purpose
Direct your job and responsibilities in order to best fit the needs of your personal and business life
Pave the way for your own motivation
Develop assertive communication techniques to improve relationships, motivation, and creative problem-solving and innovation at work
Create a better project management life cycle, ensuring stronger teams and closer bonds
Develop skills and understanding to create a company culture that encourages open communication – how this looks, why it is good for business, challenges to expect and how to overcome them, etc.
Capitalize on energy and time management techniques to build stronger, personal output and higher contentment
________________________________________________________
In the Purpose & WHY Intensive for Companies (managers, employees)
"If you can hire people whose passion intersects with their job, they won't require any supervision at all. They will manage themselves better than anyone could manage them. Their fire comes from within, not from without. Their motivation is internal, not external." – Stephen Covey
To ensure that the purpose and WHY of your company is conveyed clearly, it is integral to involve your employees on a deep level. A great leader doesn't tell people what to do; Rather, you go first, inspire, and show and tell – allowing each person on your team to understand and see the truth in your vision, especially as it relates to the energy and time they put towards helping you build your company.
In this workshop, we'll work to create an engaging, inspiring and process-rich day. Each employee and all teams involved will develop clear intent and purpose and relate it back to their own engagement and commitment to the company's overall purpose and WHY.
This process not only allows employees to understand and connect with their individual purpose, as well as understand why they're deciding to intentionally spend their time, energy, expertise and life at your company, but it's also one of the primary ways to attract the kind of talent who will work with you based on purpose – not just money.
As human beings, we don't do well when we're reduced to a number in a cubicle. Each member of your team, no matter what level of the organization they're at, has an incredible capacity to bring about a resourcefulness most leaders never understand, and worse, refuse to foster and blossom. Any resource not fully extracted and put into play is a loss to your business.
Knowing that we contribute to the world in a positive way (in both business and life) drives life-fulfillment on the eudaimonic level. Read more about eudaimonic life contentment here.
Whether this is the first time you are working with purpose and WHY in your company, or this is a revisit to take the inspiration and clarity of intent to the next level, each employee will grow as a result of this intensive workshop. It will spark inspiration and new ways of engaging with job responsibilities, tighten a co-creative team culture, deepen understanding of other departments within the company, and reveal 
In the Purpose and WHY Intensive for Companies (managers, employees) people will learn how to:
Connect at a deeper level of clarity with their passion (aliveness) and purpose
Identify their WHY
Connect with their own passion and purpose, in context of the company's vision, purpose and North Star
Increase aliveness, motivation, purpose, productivity, creativity, and sense of belonging
Drive all activity towards a common company goal and vision
Improve teamwork: What kind of people they work best with and why
Direct their job and create teams that best fit their own needs, as well as the needs of the company
Lead their own motivation and productivity, as well as take daily responsibility
Develop assertive communication techniques that will help boost relationships, motivation, creative problem-solving and innovation at work
Identify how customers buy based on the company's why
Understand where and how they matter within the bigger company vision – down to the intern and up to the key leaders
Build stronger teams and closer bonds through the new project management life cycle
Understand engagement and how they can be responsible for their own contentment, motivation and productivity of their output
Take responsibility for the company's overall success by developing key leadership skills
Prioritize projects based on creating results in alignment with the overall goal and company vision
Create efficient time and energy management techniques for stronger output and higher contentment levels
SERVICES
1-2 day intensive for leaders/founders/visionaries of company
Full day intensive for company/employees/departments
Firestarter or Refresher Purpose and WHY workshop (3 – 5 hours)
Revitalize Passion in the Business workshop (3 hrs – 2 days)
Inspirational and educational speaks (0.5 – 1 hour) Read more about Speaking Engagements here
Contact us via email or call +45 4244 9800 (Denmark) or +1 303.717.7651 (USA) to discuss your needs further.
Working with Sandja has given us a consistent strategic purpose and a shared team goal, making us stronger as a team and as a company, which is reflected in employee motivation and engagement as well as the company's bottom line."
Martin Remmer, CEO and co-owner Remmer A/S (Denmark)
Sandja has been an excellent player on the Crocs team juggling many responsibilities and wearing many hats during the initial phases of Crocs' history. Sandja is an organized, efficient and powerful business woman, who creates results. I have and will continuously pull Sandja in on consulting opportunities thru my many ventures.
George Boedecker, Co-founder of Crocs (Boulder, CO, USA)
An awesome powerhouse revolutionizing business!
Susannah Campora, business owner (Denver, CO, USA)