World Travelers :: Eco-executives share their secrets to succesful travel
Organic Spa Magazine's editor in chief, Rona Berg, asks some of her favorite well-traveled eco-executives to share their secrets to successful travel. I am thrilled to be among the global eco-executives picked for this piece! Thank you!
Sandja Brügmann
Q: Who are you?
A: I am a passionate lover of living my life to the fullest, and continuously finding ways to peel away the layers standing in my way to do so. And, there is nothing I love more than helping other people and my clients do the same.
I am the founder and chief creative strategist of Refresh Agency (refreshagency.com), a specialized boutique communications, PR and social media firm focusing on sustainable and social good brands, with offices in Boulder, CO, and Copenhagen, Denmark—two of the world's prime sustainable innovation epicenters.
Q: Where are you going (next trip)?
A: The next for play trip is to Paris with my daughter, Amilija, and one of her best friends from growing up in Boulder, CO.
Q: What are your top five travel essentials?
A: John Masters Organics Pomegranate facial nourishing oil, melatonin to manage jetlag, Bach Rescue Remedy spray in travel size, Pukka three fennel herb tea and my Moleskine journal.
Q: The one thing you cannot travel without and why?

A: Warm ski socks! I kick off my boots on the plane and cozy up in my warm socks and Karmameju leggings with a cup of Pukka calming tea. Planes are always so cold.
Q: Favorite destination and why?
A: Spier Wine Farm (spier.co.za) outside Cape Town in the beautiful wine country Stellenbosch in South Africa. The kindness and hospitality of everyone I met there was bar none. Spier is a company dedicated to sustainability and social good, and I felt the passion and true human and environmental concern in everything they do. And it is delicious in every way, from a clean and nice hotel room, wine tastings, off-road Segway tours of the organic vineyards and art that inspires everywhere, to a low-key relaxing and present atmosphere.
Q: Top travel tip?
A: Curiosity. I consciously set my intention to be one of curiosity and allowing magic. I find that this allows me to get closer to people and new and different cultures. My travels are a source of renewed aliveness and inspiration.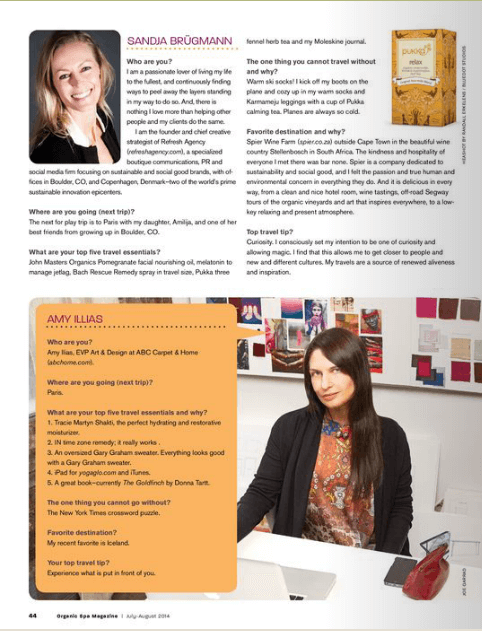 Read the full article on Organic Spa Magazine (Online) here.
Read more about Sandja Brügmann here.
INSPIRED
by this post?
Sign up for newsletter updates. It's Free!